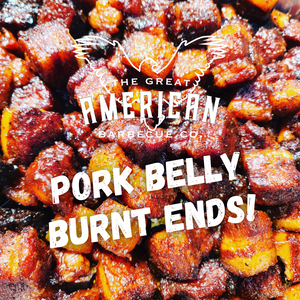 BBQ Pork Perfection - Pork Belly Burnt Ends
These Unbelievable Belly Bites will Blow Them Away!
One of the most delicious barbecue treats you'll ever taste, pork belly burnt ends are a delectable experience that will keep your friends and family begging for more.
There are a few ways you can go- super sweet, savory heat, sticky and spicy- but no matter your preference, these little pieces of addicting pork perfection are a must try for any backyard barbecue fanatic!
Here's how we like to do it. You can use this walkthrough to develop your own method and make your own luscious little belly bites. You'll get incredible flavor by combining our EPS rub and Pork rub, because the salty/savory flavor of the EPS combined with the sweet heat of the Pork Rub packs a one, two punch you will absolutely crave once you've tasted it. You can find both products linked below!
Experiment, have fun with it, and enjoy yourself!
What You'll Need:
1 Pork Belly – You can find them through a local butcher, and Costco also carries them
BBQ sauce
Apple juice
Stick Butter
Cutting board
Sharp Knife
Cooking racks
Aluminum roasting pans
Aluminum foil
Your preferred smoking wood (we used cherry wood for these)
 Steps to make these incredible bites of pork Heaven:
Cube your pork belly into pieces about 1 to 1.5 inches
This allows even coating of the rub, fast and cooking, and makes it simple to glaze and serve them
Place all the pieces in a large pan (we used a rubber tub specifically for BBQ prep)
Evenly coat the pork in Arch City EPS to give it a nice base layer of savory flavors
Be sure to mix the pieces thoroughly to ensure consistent coating on each bite
Evenly coat in Arch City Pork Rub to add a second layer of flavor, this time sweet with some spice
Place your pieces on cooking racks (you can find this anywhere that ells kitchen products)
This allows for easy transfer from prep area to smoker and back
Smoke at 250° for about 2 hours, or until the middle of the pieces start to temp at about 160° to 170°
Place the pork belly bites into an aluminum pan, add pieces of stick butter (as much as you like) to bring some moisture and add another level of flavor
Sprinkle brown sugar and honey over top of the pork to add some more sweetness and help them start to glaze (pro tip, we like to substitute agave for the honey for some rich sweetness!)
Cover with aluminum foil and continue to cook at 250° until the pieces reach an internal temp of about 200° to 205°
Remove the belly bites from the current pan and place in a fresh aluminum pan. Cover them lightly in your preferred glaze.
*For a simple glaze, mix 50% your favorite BBQ sauce with 50% apple juice, and add in some hot sauce to your liking.
Place back on the smoker, uncovered, for about 15 more minutes
You want the glaze to get sticky and not start to burn (unless you like the sauce to burn a little, then go for it!)
Remove and let rest for 10 to 15 minutes (these are small bites, they will cool quickly)
Plate and serve!
This fun and tasty treat is a great way to feed some delicious barbecue to a lot of people at a low cost. A 9 or 10 pound belly will run $40 or less. Your guests will absolutely crave them, your kids will devour them, and you will be the talk of the neighborhood! So if you're ready to elevate your pitmaster game to expert level, grab yourself some Arch City EPS and Arch City Pork Rub today, and get ready to wow your friends and family with unbelievable flavor!
Until next time, Smoke Up and Enjoy!
-Danny
---