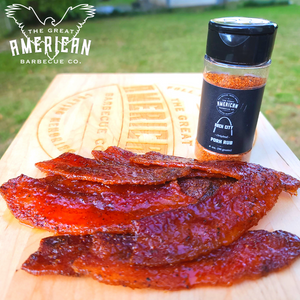 Candied Bacon made easy??? I'M IN!
Sweet, Savory, and Bacony...Let's do it, folks!
You love great meat, and you love a nice sweet treat, right? Me too! Combining the two can be tricky, but when you do it right it's a delicious combination of flavor that will make your taste buds shout with joy.
There are a lot of ways to do this, but I'm going to give you a quick and simple method that anyone can adopt and make their own. After you taste this incredible flavor profile, you'll kick yourself for not trying our rubs sooner!
What you will need:
Your choice of a quality thick cut bacon
Arch City Original Pork Rub
Light Brown Sugar
Baking Pan (a cooling rack helps)
Smoker, Grill or Oven
Meat prep:
Place your bacon on a foil lined baking sheet
To avoid sticking, use some olive oil to coat the foil, or place the bacon on a cooling rack in a pan as seen below
Dust the bacon with a nice coating of Arch City Original Pork Rub (gives a great delicious flavor to bacon!)
Liberally cover your bacon with light brown sugar
Get ready to cook!
When it comes to cooking your candied bacon, you can go oven, grill or smoker depending on your skill level, the amount of time you have and what kind of flavor you're searching for. Obviously, the smoker will add more smoke to the mix, and the oven/grill will simply heat the bacon without adding another level of flavor. The process is basically the same, you just have to be careful to keep the temperature round 350° to avoid burning the sugar.
The Cook:
Heat your oven/grill/smoker to 350° (or as close as you can get)
Place your baking sheet of seasoned bacon on the middle rack of your oven 
Cook for approximately 30 to 40 minutes, checking every 10 minutes or so to ensure your sugar is not burning (every cooker is different so it's best to watch it carefully the first time out)
At the halfway point, add more seasoning over the top of your bacon to enhance the flavor further
You can choose how crispy you'd like your candied bacon- 30 minutes should give you flexible bacon, while 40 will give you crispier bacon
Remove your bacon from the cooker and allow it to cool to around room temperature (lets the sugar solidify)
Enjoy! And try not to bite your fingers off, as you will undoubtedly have a hard time containing yourself once you smell that tasty sweet candied bacon aroma!
Now you have a scrumptious treat the whole family will enjoy, anytime! It's very easy to make, and with our seasonings at your side you will hit a home run every time! 
I hope you and your family enjoy the flavor experiences we aim to deliver to all of our customers. Remember, if you have any questions or suggestions, we would love to hear from you! Feel free to give us a shout at:
CustomerExperience@greatamericanbarbecueco.com
Until next time, Smoke Up and Enjoy!
-Danny
---